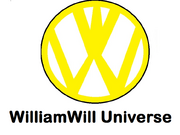 The WilliamWill Universe
is a shared-universe franchise that includes The Action GameMaster Universe, Six film series with unique plots. A few spin-off television shows and TV specials. It focuses on WilliamWill's favorite cartoon characters from Media as well as the OCs.
Action GameMaster Universe
Main article: Action GameMaster Universe
This universe is a reimagining of the infamous video game, Action 52.
Film Series
These are the plots for story arcs of that particular film series.
WilliamWill Journeys
Each film in the series will star a cast of characters from various Media as well as the OCs on epic adventures with gripping action and exciting plots.
The Nintendo Nation
Each film in the series will star Nintendo Characters and the OCs in an epic adventure inside the lands of Nintendo.
The 80's Universe
This film series will star 80's characters from 30 shows that will have epic adventures, gripping action, exciting plots, and suspenseful drama.
Popples
This film series will focus on the town of Chipotleville and it's residents: Rudy and Judy Hopewell, Billy and Bonnie Wagner, Jo and Jane Rodster, the 9 original Popples, Halley and Brenda Wagner, and Sally and Annie Windia. They will have some adventures that will happen before the events of the TV Series Hopewell's Popples and the destruction of Chipotleville.
Reena's Adventures
This film series will star Reena Raccoon and her friends in crazy adventures with amazing plots, and gripping action.
Ad blocker interference detected!
Wikia is a free-to-use site that makes money from advertising. We have a modified experience for viewers using ad blockers

Wikia is not accessible if you've made further modifications. Remove the custom ad blocker rule(s) and the page will load as expected.