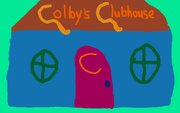 The Cool Condo of Colby Cat
is a children's animated TV show that is created by WilliamWill Television, Carrie Walton Animation, and Fireworks Television, It aired on December 16, 2015, on Reena Raccoon Network.
Premise
This show follows a 10-year-old cat named Colby and his 9-year-old sister named Cathy and their friends on amazing adventures. These adventures mainly happen in Colby's own playhouse called Colby's Clubhouse.
Characters
Colby Cat: He is a 10-year-old cat who is smart, very cheerful, athletic, helpful, and sometimes perfect. He loves baseball, trains, comics, soccer, and adventures.
Cathy Cat: She is Colby's younger sister who is pretty sarcastic, kind, very strong, jumpy, and intentionally cute. She is very strong for her age and can be pretty useful at times, but sometimes can be pretty clumsy. She loves yarn, yo-yos, her father, magazines, books, and 90's and 2000's cartoons.
Adrianna Mouse: She is a 12-year-old brown mouse who is dependent, flirtatious, very jumpy, sensitive and headstrong, and benevolent. She loves mobile phones, cheese, ice-skating, hairbows, and mysteries.
Annabelle Shepherd: She is an 8-year-old dog who is a child prodigy who is resourceful, intelligent, athletic, helpful, and diligent. She is an expert at helping people with disabilities. She loves bones, the beach, helping people, art, and sports.
Andrew Badger: He is an 11-year-old badger who is dependent, cheery, always kind, dignified, and smart. He loves roller-skating, cars, boats, Dunkin' Donuts, music, and rapping.
Ivy Lamb: She is a 9-year-old lamb who is wide-eyed, playful, gullible, friendly, and naive. She loves roller-skating, wool, lilacs, games, and theories.
Chuck Beaver: He is a 10-year-old beaver who is pretty handsome, headstrong, empathetic, sweet, and benevolent. He loves painting, mice, trampolines, science, and news.
Vincent Cat: He is the father of Colby and Cathy Cat.
Penelope Cat: She is the sweet and fun-loving mother of a Colby and Cathy Cat.
Episodes
| Episode No. | Title | Premise | Airdate | Ratings |
| --- | --- | --- | --- | --- |
| 1 | A New Clubhouse | Colby Cat has decided to build an awesome clubhouse because he needs a place for his favorite stuff. | December 16, 2015 | 14.23 |
| 2 | Cathy's Storytime | Cathy wants to read her favorite book, A Kitty Wonderland, but she had lost it. So Colby helps her find the book. | December 23, 2015 | 24.49 |
| 3 | A Bun-derful Life | Adrianna wants to make some cheese buns for her pen pal Collin Andy on his birthday, but she doesn't have the ingredients to bake them, so she asks for Sally's help with the recipe. | December 30, 2015 | 21.85 |
| 4 | What About Timothy? | Colby and Adrianna meets a little bunny named Timothy Cottontail, but he looks kinda sad, so Colby tries to cheer him up. | April 27, 2016 | 20.51 |
| 5 | Annabelle's New "Friend" | Annabelle finds another autistic person just like Zachary Border. But she finds out that it's actually a child molester. | May 4, 2016 | 20.18 |
| 6 | A Spoiled Brat | Colby meets a new family with a son who is very greedy. | May 13, 2016 | 14.45 |
| 7 | Andrew's Baby  | Andrew Badger has been a bit nervous, but also very excited about his mother having a baby. | October 17, 2016 | 27.56 |
| 8 | Welcome Skater | | | |
| 9 | A Creepy Nightmare | | | |
| 10 | Adrianna's Small Stature | | | |
| | | | | |
| | | | | |
| | | | | |
| | | | | |
| | | | | |
| | | | | |
| | | | | |
| | | | | |
| | | | | |
| | | | | |
| | | | | |
| | | | | |
| | | | | |
| | | | | |
Character Lineup