The All-New Wild Puffalumps is an animated TV show that is a reboot to the 1987 Nelvana cartoon The Wild Puffalumps. It is co-produced by WilliamWill Television, HiT Entertainment, and Nelvana. It premiered on March 23rd, 2015 on Orange Otter Network's Toon Lagoon (Now Golden Koala Toon Tower).
Plot
Two kids named Holly and Kevin hop into a book about the Isle of Wild and hop in. In each episode, they along with the Puffalumps from the original cartoon (as well as a few new ones) have adventures on the isle. Meanwhile, two villain Puffalumps named Vulture (voiced by ) and Bat (Voiced by ) try to wreck their fun, but they always solve the problem whenever they appear.
New Puffalumps
Seven new Puffalumps (excluding the villains) are introduced in this series. Two more hero Puffalumps were added in season 2.
Kangaroo (Voiced by Lulu Ebeling): A female green kangaroo Puffalump with an Australian accent. This athlete loves to throw boomerangs just for fun.
Giraffe (Voiced by Grant Palmer): A male orange giraffe who is the tallest of the Puffalumps. Maybe clumsy and careless, but is nevertheless a hard-working fellow.
Penguin (Voiced by Cassandra Morris): A female magenta penguin Puffalump who is Walrus' girlfriend. She enjoys swimming and playing games of snowball fighting with Walrus.
Hippo (Voiced by Matt Hill): A male cyan hippo Puffalump that loves to eat, get dirty, and yell. His dirtiness and loud voice may annoy the others but is still a true friend.
Turtle (Voiced by Stephanie Sheh): A turquoise female turtle Puffalump who is often slow. While she can be tardy at times, she is always careful at what she is doing.
Rabbit (Voiced by Andrea Libman): The youngest of the Puffalumps, who is a 1 1/2-year-old white baby rabbit. He only communicates by babbling and saying one to two syllable words such as "Wow!", "Yay!", and "Oops!" He is also a little shy, but his ears provide the best hearing in all of the Isle of Wild.
Seal (Voiced by Madison Pettis): A female purple seal Puffalump who is an aquatic acrobat. Although her talents and competitive streak can cause her to be a show-off, she often amazes her friends.
Fox (Voiced by Kath Soucie): A male peach fennec fox Puffalump. He debuts in season 2.
Koala (Voiced by Teresa Ghallager): A female silver koala Puffalump. She debuts in season 2.
Other Characters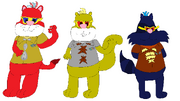 Ferret (Voiced by Olivia Hack): The leader of the Wild Heroes. He is a red ferret Puffalump capable of shaping his body to access narrow gaps, tracking down lost objects telepathically, and scaling walls and ceilings.
Squirrel (Voiced by Candi Milo): The second-in-command of the Wild Heroes. She is a gold squirrel Puffalump whose tooth can slice off objects in a single bite.
Raccoon (Voiced by Cathy Weseluck): The cunning, younger brother figure to the other Wild Heroes, but has a good heart. He is a navy blue raccoon Puffalump that has supervision, vortex creation, and can spin into a whirlwind to scatter enemies and debris.
Bear 
Deer 
Lynx 
Lil' Panda 
Original Puffalumps
Elephant - best friend of kangaroo
Toucan - best friend of turtle
Rhino - best friend of kangaroo
Walrus - best friend of penguin
Tiger - best friend of koala
Monkey - best friend of fox
Panda - best friend of giraffe
Episodes
Season 1 (March-September 2015)
| Episode No. | Title | Premise | Airdate | Ratings |
| --- | --- | --- | --- | --- |
| 1 | Welcome to the Isle of Wild! | Kevin and Holly jump into a book about the Isle of Wild and are welcomed for a stay. | March 23, 2015 | 12.51 |
| 2 | Obstacle Force | The Puffalumps host an obstacle course to see who's the agilest, but Vulture and Bat mess it up. Will it get out of this mess? | March 30, 2015 | 10.55 |
| 3 | Seal Your Mouth! | Seal has been showing great pride in her acrobatics. But then, her show-off personality is beginning to annoy the others! | April 6, 2015 | 10.88 |
| 4 | Toucan Keep a Secret | Toucan becomes very nervous when he is forced to reveal his secrets to the others. In fact, he isn't ready for the Let-the-Puffalump-Outta-the-Tree Event.  | April 13, 2015 | 4.59 |
| 5 | Don't Let it, Snow! | Vulture and Bat magically change the weather to snowy, cold, conditions. It's up to Kevin, Holly, and all the Puffalumps to change it back or else it's an eternal Winter! | April 20, 2015 | 8.55 |
| 6 | Stripe for the Picking | Some ticks have invaded Tiger's furry body, specifically onto his stripes. It's all fun and games to get rid of the annoying pests. | April 27, 2015 | 7.56 |
| 7 | Funky Monkey | Monkey becomes a disco star, impressing everybody. | May 4, 2015 | 5.54 |
| 8 | Ear's Your Chance | Rabbit hears a big argument coming from Vulture and Bat. Holly, Kevin, and the others follow him to Vulture and Bat, who then threaten to make Rabbit's ears disappear.  | May 11, 2015 | 7.26 |
| 9 | Rhino's Twist of Fate | Rhino ends up stuck in some quicksand. To make matters worse, he's sinking in it when tied up in a rope by Vulture and Bat. As a result, Kangaroo creates her own super-hero ego called Rubboomeroo to save him. | May 18, 2015 | 7.53 |
| 10 | Can Elephant Fly? | Elephant tries various ways of creating his personal device for flying. He tries making a helicopter, a hang glider, an airplane, and a jetpack with the help of his friends. Which one does he prefer? | May 25, 2015 | 8.63 |
| 11 | The Puffalumps Go Over the Mountain | Holly, Kevin, and all the Puffalumps take a hike up Mt. Puffalump. Too bad Vulture and Bat interfere with them halfway through the journey, trying to push them back to the beginning.  | June 1, 2015 | 8.69 |
| 12 | Kevin's Kick-Off | Kevin hosts a soccer tournament in the Isle of Wild for everyone. It's the Holly Wood Stars vs. the Vulture Bones. | June 8, 2015 | 9.55 |
| 13 | Up for Crabs | The heroes notice a bunch of crabs arriving at the Isle of Wild. So they learn more about how the crabs arrived in the Isle. They also meet the leader of the crab group called Vince Pincer.  | June 15, 2015 | 9.36 |
| 14 | Hippo-Cramp-Us | Hippo receives a cramp from not eating any food in days when his mouth is sore. | June 22, 2015 | 10.66 |
| 15 | Pandaland | Panda opens up a new amusement park in the Isle of Wild called Pandaland. | June 29, 2015 | 16.28 |
| 16 | What's Neck-st? | Giraffe's clumsiness goes too far when helping the others out. When the others kick him out, he feels upset. Can he apologize? | July 6, 2015 | 17.69 |
| 17 | Shell We Dance? | Turtle comes up with some new Waltz moves she invented. | July 13, 2015 | 17.57 |
| 18 | Bature | Vulture and Bat fuse their bodies together with a new machine and become a creature named Bature. They try and attack everyone on the Isle of Wild. | July 20, 2015 | 17.59 |
| 19 | Wild Puffalump Filming | Holly shows the Puffalumps a film camera and decides to make a movie with it. | July 27, 2015 | 17.87 |
| 20 | Master Holly | Holly shows the Puffalumps her excellent karate moves. | August 3, 2015 | 18.88 |
| 21 | Rubboomeroo Strikes Back! | When Vulture and Bat interrupt Kangaroo's birthday party, Kangaroo becomes Rubboomeroo to defeat them. | August 10, 2015 | 17.86 |
| 22 | Barbie Q, How Do You do? | Kevin's pen-pal (and possibly girlfriend) from Texas named Barbara "Barbie" Queen comes to the Isle of Wild. | August 17, 2015 | 19.09 |
| 23 | Wild! Guests | Ferret, Squirrel, and Raccoon come to the Isle of Wild to show off their wild powers. This makes the other Puffalumps jealous. | August 24, 2015 | 17.86 |
| 24 | Morphing Puffalumps | Vulture and Bat turns Kevin and Holly into a Wolf and a Cat by using a light blue magical gem that Bat found in a tree. | August 31, 2015 | 19.56 |
| 25 | A Crystal Cave: Part 1 | The Wild Puffalumps found a cave that was never here before. They decided to go inside it and finds many kinds of gems and crystals in it. | September 7, 2015 | 20.86 |
| 26 | A Crystal Cave: Part 2 | Bat and Vulture trap the Wild Puffalumps in the cave with a boulder. | September 14, 2015 | 22.58 |
Season 2 August-December 2016)
| Episode No. | Title | Premise | Airdate | Ratings |
| --- | --- | --- | --- | --- |
| 1 (27) | Much Peaceful | Holly, Kevin, and the Puffalumps try to stop Vulture and Bat from causing disruptions. | | |
| 2 (28) | A Puffalump Day | The heroes celebrate Puffalump Day, the day in which the founder of the Isle of Wild discovered the Puffalumps. | | |
| 3 [ 6 ] | Holly The Angel | | | |
| 4 [ 12 ] | A Supreme Showdown | | | |
| 5 | elephant hood | | | |
| 6 | wizard of wild | | | |
| 7 | xmas in may | | | |
| | | | | |
| | | | | |
| | | | | |
| | | | | |
| | | | | |
| | | | | |
| | | | | |
| | | | | |
| | | | | |
| | | | | |
| | | | | |
| | | | | |
| | | | | |
| | | | | |
| | | | | |
| | | | | |
| | | | | |