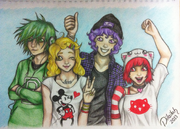 Teletubbyland Human
is a drama sci-fi TV series created by WilliamWill2343 and PB&Jotterisnumber1 that is produced by WilliamWill Television, Epitome Pictures, OddLot Entertainment, and ITV Studios America. It aired on
Orange Otter Network
(now 
Golden Koala Network
) on June 15, 2015. It was canceled on August 10, 2015, due to series creator, James Hugh hacking the operations of Reena Raccoon Network.
Premise
In August 2001, a demolition crew came to Teletubbyland to tell the Teletubbies that they are about to demolish their home to replace it with an airport. As a result, the Teletubbies decided to leave their home to search for a new home. While they're searching, they come across a portal. They all fall into the portal and started to change form. They become human as they land on a meadow beside a pond in present-day England. As the human Teletubbies were walking in the meadow, they come across a scientist named Norton Benson P.H.D. When he saw Laurie, he thought that she was beautiful as an American Rose. However, the Human Teletubbies kept on walking to London where their adventures begin.
Characters
The Human Teletubbies
Laurie Lawson: She is the main character in the show. She has yellow hair and has a short-sleeved buttoned shirt with a short skirt on her body. She is cutely sarcastic and awkwardly clumsy but always reliable and sweet to Norton Benson. She loves painting, Doctor Who, and fashion.
Penniling Pearson: She is sometimes shy, timid and has a soft voice, but is always witty, smart, kinky, and assertive. She loves her scooter, jewelry, and books.
Timothy Williams: He loves airplanes and racing. He is loyal, sarcastic, and resourceful. He also has a tote bag with him.
Daniel Dawson: He is an inquisitive, compassionate, reckless, and stubborn fellow who loves skateboarding, skiing, and spelunking.
Other Characters
Norton Benson Ph.D.: He is a philosophical scientist who is in love with Laurie Lawson. He works at The Oxford University. He is intelligent, sometimes frantic, and romantic.
James O'Brien: A sneaky Irish sniper who has abused his daughter Tracey a year before the events of the show took place.
Episodes
Season 1 (June-December 2015, 26 Episodes)
| Episode No | Title | Premise | Airdate | Ratings |
| --- | --- | --- | --- | --- |
| 1 | Change To Remember | The Teletubbies become humans upon passing by a portal. | June 15, 2015 | 12.93 |
| 2 | The Doctor Who Marathon | Laurie is excited for the upcoming Doctor Who marathon, but the signal's messed up. Will she still be able to watch it? | June 22, 2015 | 17.59 |
| 3 | Timothy Ain't Prissy | Timothy is made fun of by sexist people for carrying a tote bag, who think that it's only for girls. What can he do to make them stop? | June 29, 2015 | 14.55 |
| 4 | Oh... the Philosophy! | Laurie and Norton get in a fight over a philosophy experiment to the point when they're about to break up. Can the rest put them back together? | July 6, 2015 | 18.58 |
| 5 | Mall Hop | The Human Teletubbies visit the mall to explore shopping opportunities. | July 13, 2015 | 18.51 |
| 6 | Alive Alive-Oh, no! | During a trip to Dublin, a sly sniper named James O'Brien has caused a massacre around the city! It's up to the Human Teletubbies to take care of the problem. | July 20, 2015 | 18.62 |
| 7 | Skate and Live | Daniel Dawson is ready to participate in a skateboarding competition and is determined to win. But can he? | July 27, 2015 | 18.80 |
| 8 | Noo-Noo's New Look | Noo-Noo travels through the same portal the Human Teletubbies went and becomes a plain vacuum dubbed Noble, leaving the others confused. But soon after, Laurie makes a bet on who can keep the vacuum. | August 3, 2015 | 18.90 |
| 9 | Growing Brains | Norton introduces Laurie to a bottled substance that is able to expand any human or animal brain.  | August 10, 2015 | 19.46 |
| 10 | Mouse Zap | A group of rabid mice have somehow escaped from a pet store and invaded the streets of London. The Human Teletubbies try to exterminate them with Noble. | August 17, 2015 | |
| 11 | Feel the Sunshine | The Sun Baby gets sucked into the same portal the Human Teletubbies went and becomes a 9-year-old human girl dubbed Solly Sunnyvale. She became Penniling Pearson's daughter. | August 24, 2015 | |
| 12 | Like Daughter, Like Mom | Penniling and Solly decide to go out together for fun. | August 31, 2015 | |
| 13 | A Jolly Crime Wave | A crime wave emerges in London, and Laurie Lawson goes to stop it. However, Timothy Williams is already stopping it. | September 7, 2015 | |
| 14 | A Powerful Mayor | Seeking to sharpen up London and make it a more tolerable place, James O'Brien decides to run for mayor. James actually wins the election and becomes mayor. However, once he gets involved with politics, he starts to go insane with all of the power he holds and soon gets a burning desire to make the entire U.K. a communist dystopia. | September 14, 2015 | |
| 15 | A New Family Under A New Roof | The portal sucks in all of the Teletubbyland and it suddenly becomes a large mansion in the country, the rabbits become 12 6-year-old human children (Jessica, Zack, Fawn, (to Laurie Lawson) Clifford, Sheryl, Xerox, (to Penniling Pearson) Vanessa, Terry, Erica, (to Timothy Williams) Andy, Carrie, and Alvin. (to Daniel Dawson)), and the Voice Trumpets become artificially intelligent home telephones. | September 21, 2015 | |
| 16 | Beach Hijinks | Penniling's children decided to go to the beach. | September 28, 2015 | |
| 17 | | | | |
| 18 | | | | |
| | | | | |
| | | | | |
| | | | | |
| | | | | |
| | | | | |
| | | | | |
| | | | | |