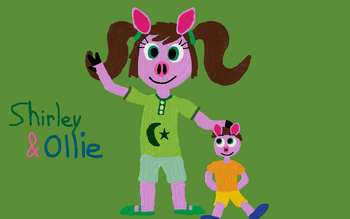 Shirley Pig 
is an 9-year-old female anthropomorphic pig who is Jenny and Ollie's older sister. She is also the younger cousin of Chester and Charlotte Pig. She was born on Dec. 8, 2008.
Biography
She was born on December 8, 2008, in Dawson, MO. with her parents Grease and Rose Pig. When she was 2, her parents adopted a purple, fat otter that resembles Jelly Otter, but fattened up. She was named Fat Jelly. When she was 3 1/2, she went to her first magic show ever, which made her believe that she could do magic, too. When she was 4, she went to the LaSallia Arcade Center, which became her favorite place of all time. At the time she was 5, her sister, Fat Jelly, started to do some naughty things such as ruining someone's birthday party, kidnapping the Otter Family, and killing people and this made her very worried. Grease the Pig wasn't happy about her, so he decided to always ground her all the time. On October 13, She was executed for planning the murders of Emma, Swimmer, Fancy, and Peanut Otter. It made her very sad. Two years later, her mother divorced her husband because he was too harsh on Fat Jelly and that she never wants to see him again. After that, she became a lesbian and married 21-year-old Marietta Pig. Marietta also resurrected Fat Jelly and made her into a pig just like her. She was renamed, Jenny.
Personality
She is kind of cheerful, perky, and pretty vivacious. She can be very carefree and mellow at times, but can also be a bit anxious. She is pretty playful and practically full of fun. She is always fearless, plucky, and lionhearted on many adventures. Plus, she can be a little bit dense at problem-solving, but she is always very smart, quite nimble, and astute. She also can be very chatty and talkative at times. She loves to watch many cartoons that she has an interest in. She likes reading many books because it's very relaxing on her, and she likes reading children's and fantasy books often. She loves to play in the snow with her friends and siblings. She also loves to watch movies that she likes with Chester Pig and Lizzie Princess. She loves to do magic tricks to show to her family with her purple cape and hat, and her dark green wand. She likes to make evaluations and reviews on plays and her favorite movies. She also likes to make many theories about children shows, movies, and events. She also loves the color green that associates with her favorite park, Zeppla Park.
Bio
Full Name: Shirley Fawna Pig
Nicknames: Cartoonish Ham, Movie Girl, Winter Piggy
Nationality: American
DOB: December 8, 2008
Age: 8
Grade: 3rd Grade
Weight: 54 lbs
Height: 49 in.
Fur Color: Pink
Fur Texture: Smooth, Brisk
Hair Color: Brown
Hair Length: Long
Hair Quality: Shiny, Smooth.
Hairstyle: Twin tails (Sometimes she wears her hair in a ponytail, let it flow freely, or in a chignon)
Eye Color: Green
Hometown: Dawson, MO
Dream Jobs: Cartoonist, Author, Movie Director, Magician, Illustrator
Species: Pig
Zodiac Sign: Sagittarius
Traits: Cheerful, Playful, Carefree, Fearless, Dense, and Smart
Voice tone: Charming, Youthful, Hoarse
Voice: Lara Jill Miller
Catchphrases: "I believe in magic." "Magically Awesome!"
Favorite Seasons: Winter, Spring
Favorite Instruments: Maracas, Trombones, Bongos, Timpanis, Xylophones, Pianos, Steel Drums
Favorite Shapes: Stars, Octagons, Circles, Rectangles, Squares
Favorite Movies: Iron Man, Ponyo, Flight of the Navigator, The Land Before Time, The Fox and the Hound, Who Framed Roger Rabbit, The Prince of Egypt, Charlotte's Web, Meet the Robinsons, Alice in Wonderland, The Little Fox, Inception, The Matrix, Tron, My Brother the Pig, At the End of the Rainbow, X-Men: Days of Future Past, The Last Unicorn, Brave, Inside Out, Babes in Toyland, The Little Matchgirl, The Elm-Chanted Forest
Favorite TV Programs: X-Men: The Animated Series, Galaxy High, Dexter's Laboratory, The Wuzzles, Chowder, Daniel Tiger's Neighborhood, The Magic School Bus, Harvey Beaks, Piggsburg Pigs!, Bucky O'Hare and the Toad Wars, Dragon Tales, Olivia, Wimzie's House, Animalia, Samurai Jack, Adventure Time, The Life and Times of Juniper Lee, WordGirl, Hi Hi Puffy AmiYumi, Steven Universe, Jem, The Loud House
Favorite TV Show Genres: Cartoon, Comedy, Fantasy, Adventure
Favorite Fruits: Apples, Peaches, Mangoes, Grapefruits, Watermelons, Lemons, Limes, Gooseberries, Cranberries
Favorite Characters: Wolverine, Juniper Lee, Ms. Frizzle, Wanda Li, Chowder, Lady Amalthea, Merida, Neo, Steven, Pearl, Garnet, Wimzie, Max, Emmy, Finn, Jake
Favorite Supernatural Beings: Unicorns, Werewolves, Mermaids, Sphinxes, Phoenixes, Angels, Chimeras
Favorite Books: Charlotte's Web, The Alchymist's Cat, Ace Lacewing: Bug Detective, The Lorax, The Giving Tree, Animal Farm, Bad, Bad Bunny Trouble, Sheila Rae, the Brave, The Runaway Bunny, If You Give a Mouse a Cookie, The Day I Swapped My Dad for Two Goldfish, The Apple War, A Ball for Daisy, A Bad Case of Stripes, No, David!
Favorite Ice Cream Flavors: Rainbow, Raspberry Ripple, Blue Moon, Mint chocolate chip, Cookies and Cream, Blackberry, Cherry
Favorite Weather: Snowy, Sunny, Windy
Favorite Holidays: Christmas, April Fools Day, New Year's Day, Halloween, Fourth of July, Easter
Favorite Outside Activities/Sports: Baseball, Camping, Kayaking, Birdwatching, Card collecting, Egg collecting, Photography, Wildlife viewing, Stamp collecting
Favorite Inside Activities/Sports: Jewelry making, Martial arts, Magic, Arts and crafts, Painting
Favorite Game Consoles: Wii U, XBOX 360, 3DS, PlayStation, PS2, Qintex Amanda, NES, Nintendo 64, GameCube
Favorite Places: LaSallia Arcade Center, The beach, Xara Lake, Calvin's Ice Cream Parlor, Miami, Hong Kong
Favorite Video Games: Deus Ex, XCOM: Enemy Unknown, Civilization: Beyond Earth, Contra, Stranded (video game), Disney Infinity 3.0, Star Wars: The Old Republic, The Sims FreePlay, SimCity 4
Favorite Insects: Butterflies, Roly-Polies, Centipedes, Dragonflies, Jewel beetles
Favorite Food: Pizza, Tortillas, Steaks, Hamburgers, Oat, Corn, Pasta, Cereal, Spaghetti, Ravioli, Wild rice
Favorite Desserts: Angel food cake, Gingerbread cookies, Christmas cake, Honey buns, Waffles, Chocolate chip cake, Swiss rolls, Doritos, Gooey butter cake
Favorite Snacks: Cupcones, Pretzels, Trail mix, rice cakes, Snack cakes, Tortilla chips, Peanut butter and jelly sandwich, Oreos
Favorite Candy: M&M's, Skittles, Reese's, Lemon drops, gum drops
Favorite Drinks: Lemonade, Tea, water,
Favorite Flowers: Sunflowers, Roses, Lavenders, Lilies, Poppies, Dogtooth Violets, Japanese camellias, White tackstem, Desert Marigolds,
Favorite Animals: Tanookis, Ferrets, Horses, Lizards, Snakes, Bears, Koalas, Cats
Favorite Vehicles: Wagons, Cars, Speedboats, Jets, Racecars
Favorite Songs: Just Dance, Let's Get Crazy, Let's Get It Started, I Gotta Feeling, Alligator Sky, For a Better Day, Beat of My Heart, Pump It, 3 Words, Superstition, That's the Way (I Like It), Another One Bites the Dust, I'm Outta Love,
Favorite Music Genres: Disco, Funk, Synthpop, EDM, Acid Jazz, House,
Appearance
In her original design, she had pink scrunchies that hold her dark brown hair in pigtails and has jungle green eyes. Her clothing consisted of a purple dress with a light blue crescent moon and star, a pink zigzag, and a green curvy line on it. She also had a pink pearl necklace.
In her newest design, she now has scrunchies that match with her eyes. Her clothing now consists of a lime green Henley shirt with the same crescent moon and star as the dress, but in forest green, and has dark green hems. She also wears mint green shorts and green sandals.
In her winter outfit, she wears a blue and green knit cap, a purple coat, violet sweatpants, and jungle green boots with a green scarf.
Her swimwear consists of an olive green one-piece swimsuit.
Family
Grease the Pig (ex-father)
Rose (née Porkchop) Pig (mother)
Marietta (née Snoutley) Pig (stepmother)
Jenny Pig (younger sister)
Ollie Pig (younger brother)
Ford Porkchop (uncle)
Bridget Porkchop (aunt)
Trivia
She has a black and white cat named LoveMitten.
She hates getting bullied by Jake and Samantha Calder at her school, Hamilton Elementary because they always called a "fat hog".
She gets in her special mudhole in the bathroom to calm down when she is stressed.
Her only friend in Hamilton Elementary and the first schoolmate she ever met in 2nd grade is Dora Vivian. Fun-loving, sharp-witted, and sweet, but very shy, Dora is an 8-year-old tomboy who loves many kinds of cards, robots, and tea parties.
Her IQ is 95.7
Her mother, Rose Pig is a stay-at-home mother, but she once had a dream of being a gymnast, a teacher, and a philosopher, but they were crushed when she married Grease the Pig. After she divorced him and applied her stepmother, Marietta Pig to care for her, her dreams would be finally come true.
She also likes to eat a lot of food.
Her favorite subject in Hamilton Elementary is reading.
Ad blocker interference detected!
Wikia is a free-to-use site that makes money from advertising. We have a modified experience for viewers using ad blockers

Wikia is not accessible if you've made further modifications. Remove the custom ad blocker rule(s) and the page will load as expected.