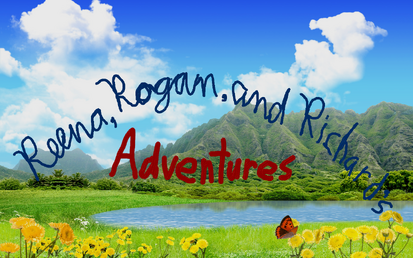 Reena, Rogan and Richard's Adventures
is a comedy children's animated TV show created by WilliamWill Television, September Television, and Indigo Studios. It was released on August 10, 2015 on
Reena Raccoon Channel.
Synopsis
This show focuses on Reena, Rogan and Richard Raccoon who go on crazy adventures with their friends and family. Rio Raccoon would usually spoil the fun the trio has, but it would often backfire in the end.
Characters
Wally Wolf: He is Reena Raccoon's BBFF, (Bestest Best Friend Forever) He went to McLaren Elementary, the same school as Reena Raccoon did. He is 7 years old and loves science, technology, having fun, and raccoons.
Polly Porcupine: She is one of Reena Raccoon's other friends. She is 6 years old and loves magic, parties, tea parties, and koalas. She is also Portia Porcupine (from The Get Along Gang)'s younger cousin.
Rusty and Rosy Danielson: Two former raccoons who permanently became humans in the rebranding of Raccoons TV.
Allison Armadillo: She is a 9 year old female armadillo who is also Reena Raccoon's friend, and loves cars rolling around, books, playing games, and fun.
Andy Armadillo: He is a 10 year old male armadillo who is Allison's older brother. He loves sports, Popples, bounce houses, and pogo sticks. 
Cora Artemisia: She is a 8 year old female Artic Wolf who is very shy and very cute. She is also Reena Raccoon's friend, and has a little crush on Wally Wolf. She loves flowers, dolls, tea parties, and playing dress up.
Carrie Raccoon: She is a 16 year old female raccoon who is very mature, cheerful, and sarcastic. She is Reena's babysitter and older cousin. She loves cartoons, fashion, dancing, her younger cousin, playing the accordion, her friends, and Facebook.
Nook Raccoon: He is a 14 year old male raccoon who is laidback, smart, funny, and friendly. He is also Reena Raccoon's older cousin. He loves video games, Rock music (all kinds), surfing, skateboarding, foxes, social studies, science, soccer, and pepperoni pizza. 
Zara Fox: She is a 6 year old female fox who is very curious, cheerful, cute, smart, and very sweet. She is Reena's favorite friend and a very talented artist. She loves painting, drawing, writing stories, and her friends.
Kumi Retriever: She is a 16 year-old Golden retriever who is Carrie and Nook Raccoon's friend. She is a hyperactive, cheerful, yet headstrong and sarcastic dog who loves flowers, spending time with her Dad, ice cream, T.U.F.F Puppy, soccer, pop music, and modern technology.  
Natalie Windia: She is a 7-year-old skunk who is one of Reena's friends. She is a shy, but strong skunk who likes Japanese culture, anime, sushi, and wrestling.
Ginger Dingo: She is an 8-year-old dingo who is adventurous, boisterous, and athletic. She loves crocodiles, boomerangs, soccer, barbecues, and water skiing.
Villains
Rio Raccoon: She is Reena Raccoon's former older sister who lives in London. She has a large tail that she for defense and offense. She is also a skilled assassin and a bit more jealous about her former younger sister.
Caitlyn Brenner: She is a very spoiled brat who always demands what she wants. She is also a huge crybaby and often prone to throwing tantrums.
Episodes
Season 1 (August 2015-January 2016)
| Episodes No. | Title | Premise | Airdate | Ratings |
| --- | --- | --- | --- | --- |
| 1 | How Reena Got Her Mask | Reena tells her friends about how she can now transform into a raccoon, her life, and her new father. | August 10, 2015 | 21.56 |
| 2 | Reena's Babysitter | Reena is surprised that her new babysitter is her former older sister, Rio Raccoon, and she was not happy with that. Luckily, her father, WilliamWill has found out and replaced Rio with Reena's teenage cousin, Carrie Raccoon. | August 17, 2015 | 22.29 |
| 3 | The Visit to Rositaville | Reena and her friends go on a field trip to Rositaville, which has a exciting culture, and history. | August 24, 2015 | 22.12 |
| 4 | Fantastic Reena | Reena was walking one day, and saw a baby bunny in the top of the tree in a dump truck. She saves the bunny and everyone cheers for her.  | August 31, 2015 | 22.56 |
| 5 | The Tailsy Promise | When Reena decides to go to the Allison Sophia Arcade to have fun tomorrow, Polly promises to go with her. However, she has a project on the history of the 80's with Portia Porcupine and it takes place tomorrow, so she decided to go with the project instead.  | September 7, 2015 | 22.61 |
| 6 | Kiki's Fiery Problem | When Kiki Kangaroo eats a dragon pepper, she suddenly transforms into a dragon. Reena and her friends decided to help her with her problem, which was solved by drinking water. | September 14, 2015 | 21.74 |
| 7 | The Raccoon Conundrum | Vanessa Richard (a fan) comes in the manor and wants to be a raccoon like Reena Raccoon, however, her loyalty to Reena goes too far when Vanessa helps her with some things that she doesn't need help with. | September 21, 2015 | 20.51 |
| 8 | Behind Zara Fox's Back | Zara Fox goes to McLaren Elementary School on her first day of school. When playtime came, she paints a amazing picture of Reena, Wally, Polly, and Allison. She made Cora, who was painting a picture of the school, very jealous. | September 28, 2015 | 21.66 |
| 9 | An Nice Ordeal | Nook Raccoon calls in Reena and Richard Raccoon for help with his mathematics homework. | October 5, 2015 | 21.63 |
| 10 | GoldenTail | Reena was given a 5 year old named Cheryl Raccoon who has a golden tail by Reena's parents' souls because this was their present to her. | October 12, 2015 | 24.34 |
| 11 | Beyond Those Hazel Clouds | Reena Raccoon meets a 22 year old girl named Hazel Farnsworth who has a 5 year-old son named Brad Farnsworth who loves to paint. | October 19, 2015 | 25.56 |
| 12 | A Anteater's Halloween | Gabrielle Switchback wonders what she wants to do as her other siblings are trick-or-treating. She then sees that the Anticks have returned for revenge, forcing Gabrielle to turn into a anteater to take care of the situation. | October 26, 2015 | 24.48 |
| 13 | Andy's Sports Day | Andy Armadillo decided to have a huge sports day, but somehow things don't go the way as planned. | November 2, 2015 | 20.45 |
| 14 | School Bunny | Ms. Shorthair has brought a white and brown bunny, the class name it Danny. | November 9, 2015 | 12.58 |
| 15 | It's Not Easy... | Carrie Raccoon tell Reena, Rogan and Richard about the time she had to babysit The Violet Kids: David, Ferguson, Zelda, Geraldina, Jerry, Xena, Dennis, Terry, Sharron, Carlin, Daphne, and Scott, which was very stressful. She had to call for the help of Nook Raccoon, but he is too busy with video games. So she had to call her friends to help with the situation. | November 16, 2015 | 21.87 |
| 16 | Stand Under My Umbrella | While walking to the store with Carrie one rainy day, Reena meets a little dog named Zachery Border who was sitting on a bench crying. He says that his parents died in a car crash. So Reena decided to have Cora Artemisia's family to adopt him. | November 23, 2015 | 20.97 |
| 17 | An Autistic Boy | Wally and Andy meet Zachery Border who was eating his lunch at the picnic table. They also meet Annabelle Spaniel who tells the kids about him. | November 30, 2015  | 21.58 |
| 18 | Sherlock Raccoon | Someone stole the Jennifers' family album and radio, and they are blaming it on Nook Raccoon. So Reena has to find the real culprit to clear his name. That's when she meets a 16 year-old raccoon named Shannon "Sherlock" Raccoon who is happy to help. | December 7, 2015 | 27.44 |
| 19 | Time on Our Side | Reena Raccoon decided to go back in time to when she was born to stop her from throwing Reena as a baby out of the window and breaking her head, but James Hugh wants to stop Reena. | December 14, 2015 | 15.56 |
| 20 | A Girl's Winter | Reena meets a little girl named Jennifer Davy who has no one to play with because she is not special enough and that she was bullied by Chris Daniella. | December 21, 2015 | 21.55 |
| 21 | Reena's Nativity | The kids decided to put on a play about the Nativity, with Reena Raccoon directing the show. | December 28, 2015 | 21.58 |
| 22 | A New Day, A New Year. | Reena thinks about what resolution should she do for the New Year. | January 4, 2016 | 20.54 |
| 23 | A Special Talent Show | Cora Artemisia is shy of being in the School Talent Show, and Reena tells her that she has a very special talent that she already has. | January 18, 2016 | 21.57 |
| 24 | Nook's Baby Brother | Reena and Rio finds out that her cousin's mother is having a new baby in the family, and they called him Bennett Raccoon. However, Richard is feeling sort of jealous of his baby cousin. | January 18, 2016 | 19.45 |
Season 2 (June 2016-
| Episode No. | Title | Premise | Airdate | Ratings |
| --- | --- | --- | --- | --- |
| 1 | A Memory to Remember | Carrie Raccoon shows her cousin Reena, her memory book called, Memoirs of Carrie and Nook. | June 13, 2016 | 29.38 |
| 2 | Reena and The Sapphires | Reena heads to the Sapphires, who moved into the neighborhood to play with them, tthinking that they might be friendly. But they do something to her that she had never seen in a long time. | June 20, 2016 | 16.45 |
| 3 | Sharron's Revelation | Sharron Loplace revealed that she wasn't a bunny, but a human under a spell. To make matters worse, if she tries to turn back into a human, she will die. | March 13, 2017 | |
| 4 | The New Crush | Vanessa Bear says to her best friend, Kumi Retriever that she has a new crush on Leonard Tiger because he is very sweet. | March 27, 2017 | |
| 5 | Welcome Back! | | | |
| 6 | Sapphires' Big Revenge | | | |
| | | | | |
| | | | | |
| | | | | |
| | | | | |
| | | | | |
| | | | | |
| | | | | |
| | | | | |
| | | | | |
| | | | | |
| | | | | |
| | | | | |
| | | | | |
| | | | | |
| | | | | |
| | | | | |
| | | | | |
| | | | | |
| | | | | |
Character Lineup