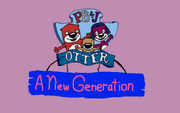 PB&J Otter: A New Generation
is a remake of the Playhouse Disney series,
PB&J Otter
It is created by WilliamWill Television, Disney Television Animation, and OddLot Entertainment. It aired on June 5, 2015 on Orange Otter Network's Preschool Club.
On May 30, 2016, it was announced that it would be on hiatus until further notice.
Premise
This series will star our original characters from the original show, including a lot of new characters like Sophie the Otter, Sally Otter, Tamara Beaver, May Fieldmouse, Tiffany Otter, Ferdinand Otter and Gwendolyn Otter. The antagonists are Callie Otter and Baby Xavier Otter.
Characters
Tamara Beaver: She is the 4-year-old younger sister of Munchy Beaver. She is girly, very elegant, artistic, and kind. She loves dolls, pink stuff, ballet, and tea parties.
May Fieldmouse: She is the older cousin of Simon Fieldmouse, being around 13 years old. She is strong-willed, sarcastic, cheerful, independent and smart. She loves superheroes, circuses, cheese, and clocks.
Ham, Egg, and Cheese Otter: PB&J's baby triplet brothers who all debuted in the episode "Three's Another Crowd....Or Is It?"
Bacon, Lettuce, and Tomato Otter: The 6 year old otter brothers who live in Howdydoo Island.
David Duck: Flick's father, who appears in Hoarse Divorce.
Sheryl Raccoon
Episodes
Season 1 (June-November 2015, 26 Episodes)
| Episode No. | Title | Premise | Airdate | Ratings |
| --- | --- | --- | --- | --- |
| 1 | Oodelay to Lake Hoohaw! | In the series premiere, we are introduced to most of the characters, the setting, and life in Lake Hoohaw. However, there's one problem. Where is Baby Butter? | June 5, 2015 | 3.66 |
| 2 | Message Muddle | Instead of receiving a thank-you letter from her pen-pal, Sally, Jelly ends up receiving a hurtful letter from Callie Otter. Will Jelly learn to deal with hurtful letters and still receive the thank-you card? | June 12, 2015 | 5.33 |
| 3 | The Legend of Lake Hoohaw's Beginnings | The kids hear from Mayor Jeff a tale of how Lake Hoohaw came to be involving four otters discovering the location long ago. | June 19, 2015 | 17.36 |
| 4 | Sibling Rivalries | Callie has brainwashed Munchy and Tamara into rivals, upsetting their mother Betty-Lou. In fact, the violence of the rivalry has gone too far to the point where they call each other names. Can PB&J and the others stop the brainwashing? | June 26, 2015 | 12.55 |
| 5 | Cousin Capers | PB&J's cousins Sophie and Sydney come to visit. Unfortunately, Sydney is bothering her little sister Sophie, making her feel annoyed. What can they do to settle Sydney down? | July 3, 2015 | 14.79 |
| 6 | Wake Up, Sophie! | After being up all night. Sophie is falling in a deep sleep. What will PB&J do to wake their cousin up? | July 10, 2015 | 5.45 |
| 7 | Garbage Removal Day | Peanut has been asked to do a very complicated task of cleaning up the Lake to help Walter Raccoon. However, thinking that it'll take forever, Peanut notices it's too difficult to accomplish. So he calls his siblings and friends over to help him out, demonstrating cooperation.  | July 17, 2015 | 8.58 |
| 8 | Family Reunion | The Otter Family invites all of their extended relatives over for a reunion together. Baby Butter, on the other hand, is hesitant to get to know the relatives she never met before.  | July 24, 2015 | 9.53 |
| 9 | Three's Another Crowd....Or is it? (Special Episode) | PB&J have recently heard some exciting, yet shocking news; they're going to have baby triplet brothers! When the babies named Ham, Egg and Cheese (of course, named after the sandwich) arrive, Opal insists that Peanut and Jelly should take good care of them . Meanwhile with Baby Butter, she feels upset since she's no longer the baby of the family. However, with Peanut and Jelly's advice, she soon gets over it and realizes that being an older sibling can be fun. Peanut and Jelly also experience that they're taking more responsibilities, no matter how hard it is. | July 31, 2015 | 19.55 |
| 10 | Do Not Disturb! | A loud noise is disturbing Ham, Egg and Cheese. So PB&J try to figure out a way to calm them down. | August 7, 2015 | 19.76 |
| 11 | Try Something New | Tamara Beaver wants to dress up like a fairy for the upcoming medieval-themed play, but when she is chosen to be the knight instead, she doesn't feel like being it. How can the rest encourage her to try something new? | August 14, 2015 | 23.64 |
| 12 | Project Pushover | The children are required to construct a model of Lake Hoohaw, they notice that it requires a lot of time, but Flick wishes that he could do it fast so they can get it done sooner, but when that plan turned out to be a failure, the kids understand how to take their time and use it wisely. | August 21, 2015 | 20.09 |
| 13 | Hang-Gliding Hullabaloo | PB&J and their friends are introduced to some hang-gliders. They are trying to understand how they work. | August 28, 2015 | 20.85 |
| 14 | Too High | This is an adaptation of the PB&J Otter book of the same name. | September 4, 2015 | 19.45 |
| 15 | Hoarse Divorce | Flick's father David comes to Lake Hoohaw, explaining divorce. | September 11, 2015 | 20.52 |
| 16 | The Otter Brothers | Bacon, Lettuce, and Tomato appear in Lake Hoohaw. Showing that the trio can be creative to solve problems, PB&J become a bit jealous. | September 18, 2015 | 22.59 |
| 17 | Sally's Manners Lesson | PB&J teach Sally Otter the proper manners for a tea party. From sneezing politely, to learning the magic words, to understanding the importance of cleaning up your own messes, everyone receives a vital lesson on etiquette. | September 25, 2015 | 14.46 |
| 18 | Food Drive Feast | May decides to help PB&J's food drive by putting on a movie premiere with a canned food admission price. | October 2, 2015 | 19.83 |
| 19 | May-Hem | PB&J steps in when May gets a little too pushy and bossy with her friends. | October 9, 2015 | 15.53 |
| 20 | Tamara the Hero | After reading a book about a Otter with superhero powers, Tamara Beaver thinks she might have special abilities too. | October 16, 2015 | 12.86 |
| 21 | It's OK to Lose | Jelly is tired of losing a new game the others are playing and quits, later realizing that winning isn't everything. | October 23rd, 2015 | 17.52 |
| 22 | Hoohaw Halloween Journey (Special) | PB&J and their friends are going out on a trick or treating adventure throughout Lake Hoohaw. | October 30th, 2015 | 18.66 |
| 23 | Spell Trouble! | Callie Otter has turned the fairy Rosetta Otter into a mountain, and PB&J set out to reverse the spell. | November 6, 2015 | 18.63 |
| 24 | Band Bust | May Fieldmouse joins the band, The Water Otterz, but her enthusiasm fades because she does not have much to do. | November 13, 2015 | 19.64 |
| 25 | An Environmental Idea: Part 1 | After Sally Otter told her friend Jelly Otter her sad story about how she became an otter, Her friends decided to help her restore the river by planting new trees by the LaSallia River and to turn Sally Otter back into a human again. | November 20, 2015 | 16.35 |
| 26 | An Environmental Idea: Part 2 | At the LaSallia River, they found out that Katie Homes were planning to build their headquarters on the site. So Sally Otter needs a plan to get rid of them for good. | November 27, 2015 | 19.83 |
Season 2 (January-June 2016)
| Episode No. | Title | Premise | Airdate | Ratings |
| --- | --- | --- | --- | --- |
| 1 | Spring is in Pollution | | | |
| 2 | Goldsight | | | |
| | | | | |
| | | | | |
| | | | | |
| | | | | |
| | | | | |
| | | | | |
| | | | | |
| | | | | |
| | | | | |
| | | | | |
| | | | | |
| | | | | |
| | | | | |
| | | | | |
| | | | | |
| | | | | |
| | | | | |
| | | | | |
| | | | | |
| | | | | |
| | | | | |
| | | | | |