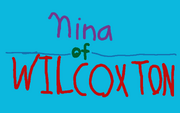 Nina Of Wilcoxton
is a drama TV Series that is created by WilliamWill Television and ABC Studios. It aired on July 19, 2015 on
Orange Otter Network
.
It was cancelled after the Orange Otter Network was rebranded as the Golden Koala Network.
Premise
This series will take place in 1991 in Wilcoxton. Nina Kareem becomes the mayor of the city when former mayor Zackery Benjamin stepped down. The people plan to hold a ceremony for her tomorrow morning and she has to be ready for the party. But one rainy night while on a walk with Jeffrey Phillips, a lightning bolt stroke her, turning her into a four year old girl. Luckily, the next morning at the ceremony, they don't mind about Nina being a 4 year old girl and decided that love her anyway. She begins her new mayoral job as a 4 year old girl while meeting new friends and villains.
Characters
Main Characters
Nina Kareem: The mayor of Wilcoxton who is a 4 year old girl. She is strong-willed, sometimes dense, and sarcastic. She may be young on the outside, but on the inside, she is very mature and attractive. She is also a athletic, hardworking and sometimes a bratty but talkative and mischievous mayor.
Jeffrey Phillips: He is a scientist at Willow University and is Nina's friend. He is inquisitive, intelligent and inventive.
Recurring Characters
Commissioner Sonia Isabelle: She is the commissioner of the Wilcoxton Police Department. She is brash, attractive and sometimes cheerful.
Baker Candice Novi: She is the head baker of Novi Bakery. She is sometimes hyperactive, kind, and friendly.
Cindy Lawman: The niece of Kyle Lawman, a police officer. She is 5 years old and is a tomboy.
Kyle Lawman: A police officer of the Wilcoxton Police Department. He is headstrong and is willing to perform his duties at hand.
Jake Kareem: Nina's brother.
General Felina Morris: She is the General of the Wilcoxton Air Force. She is brash, cheerful, a little aggressive and very sweet.
Villains
Marshall Edwards: He is devilish, devious villain who is the mayor of Bruckheimeropolis, a city that wants Wilcoxton to be destroyed. He is tyrannical and wicked.
Joy Glum: An armed and dangerous killer who doesn't like children. She is diagnosed with Bipolar Disorder, as her full name would suggest.
Amy Hamilton: She is a 5 year-old sorceress who can turn into a werewolf.
Mike Grease:
Episodes
Season 1 (July 2015-January 2016, 26 Episodes)
| Episode No. | Title | Premise | Airdate | Ratings |
| --- | --- | --- | --- | --- |
| 1 | A New Leader: Zap! | Nina becomes a four-year old girl after being struck by lightning. | July 19, 2015 | 12.85 |
| 2 | A New Leader: Mayoral Duties | Nina performs her first duties as a mayor. | July 26, 2015 | 12.56 |
| 3 | Dial K for Killer | She decided to go on a date with Jeffrey Phillips to the Chakaim Restaurant. Suddenly, they see two girls getting killed by a mysterious man. Who could've done the killing? | August 2, 2015 | 13.86 |
| 4 | Workin' Around the Clock | Nina receives a ton of work one day. Can she complete it all? | August 9, 2015 | 13.90 |
| 5 | Vessware Thief | Nina gets a message saying that a thief has stolen the copies of the latest Vessware CD. It's up to Nina to stop the thief. | August 16, 2015 | 14.96 |
| 6 | Jeffrey and Me | Jeffrey decides to visit Nina for some time together. | August 23, 2015 | 13.87 |
| 7 | That's All it Bakes | Candice's oven becomes destroyed after Marshall Edwards smashes it with an axe. Luckily, it has been confirmed it will be replaced with a newer, better one.  | August 30, 2015 | 13.48 |
| 8 | The Police Niece | Nina meets a 5-year-old girl named Cindy Lawman, the niece of policeman Kyle Lawman. | September 6, 2015 | 15.51 |
| 9 | Super Science | Jeffrey Phillips and Nina work together for a big science experiment.  | September 13, 2015 | 15.48 |
| 10 | A Cake for Jake | Candice helps Nina bake a birthday cake for her brother Jake. Unfortunately, things don't go too well. | September 20, 2015 | 14.58 |
| 11 | Expansion for Wilcoxton | Nina declares that she wants to expand Wilcoxton and include more places for recreation, more homes, and better living conditions. | September 27, 2015 | 17.95 |
| 12 | Bad Joy, Bad Joy, Whatcha Gonna Do? | An armed and dangerous killer named Joy Glum has invaded Wilcoxton, kidnapping children. Can Nina save the day? | October 4, 2015 | 14.86 |
| 13 | Laws and Orders | Nina decides to set up a new code of conduct for Wilcoxton. Will it work? | October 11, 2015 | 18.56 |
| 14 | Funtime! | Nina notices that she doesn't have any work as mayor. So, she finds ways to have fun. | October 18, 2015 | 18.93 |
| 15 | Cannibal Harm | A police chase is occurring and Nina feels like being involved in it to catch the criminal. | October 25, 2015 | 17.56 |
| 16 | Air Raiders | Nina joins Felina Morris on an air mission to stop terrorists from attacking Wilcoxton.  | November 1, 2015 | 18.96 |
| 17 | Wolf Hunters | During a hunt, Nina discovers a were-wolf, and then finds out that it's actually an evil girl named Amy Hamilton. | November 8, 2015 | 19.56 |
| 18 | The Great Pain Clobbery | A gang of bullies lead by 17-year-old Mike Grease bullies Cindy Lawman for her height. Can Nina stand up to them and protect Cindy? | November 15, 2015 | 20.86 |
| 19 | No Drugs Allowed! | Nina creates a protest to prevent drugs. | November 22, 2015 | 21.56 |
| 20 | The Lurking One Who Came to Dinner | A mysterious man has invaded Nina's Thanksgiving party. Who could it be?  | November 29, 2015 | 18.56 |
| 21 | The Nuclear Strike | Bruckheimeropolis is planning to launch a nuclear bomb attack on Wilcoxton, and Felina Morris and Nina will have to stop them. | December 6, 2015 | 26.66 |
| 22 | First Snow Fox | Amy Hamilton has turned Nina Kareem into a white fox. | December 13, 2015 | 18.66 |
| 23 | A Bloody Christmas: Part 1 | Joy Glum decides to kidnap and kill two little children named Betsy and Scott, who wanted a special present for Christmas. Nina goes out to save them. | December 20, 2015 | 18.63 |
| 24 | A Bloody Christmas: Part 2 | Nina suddenly remember that they were her children. She suddenly becomes a magical girl. | December 27, 2015 | 18.39 |
| 25 | Nina's New Year | Nina wants to do some good things for the new year. | January 3, 2016 | |
| 26 | | | | |