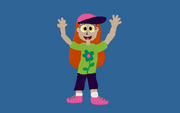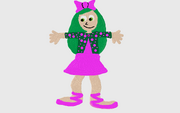 Marilyn Shirley
is a 4 year old girl who is an OC created by WilliamWill2343. She was the human form of Baby Bop from
Barney and Friends
. She loves her yellow blanket, macaroni and cheese, pizza, tea parties, and Strawberry Shortcake. Her former name is Becky Bopper.
Bio
Full Name: Marilyn Fawcett Shirley
Nicknames: Mary,
Nationality: American
DOB: March 14th, 2012
Age: 4
Grade: Preschool
Weight: 33 lbs
Height: 4 feet, 1 inch
Skin Color: Light 
Hair Color: Green
Hair Length: Long
Hair Quality: Soft, comfortable
Hairstyle: Down, 
Eye Color: Green
Hometown: St. Louis
Dream Jobs: Ballet dancer, singer, pianist, actress, waitress, fashion designer, pet groomer, nurse, babysitter
Species: Triceratops (formerly), Human (currently)
Zodiac Sign: Pisces
Traits: Cheerful, Kind, Prissy, Sweet, Compassionate, Loyal, Caring, Cute, Self-Centered, Vain, Lazy, Honest
Voice tone: Cheerful, high-pitched
GoAnimate Voice: Ivy
Non-GoAnimate Voice:
Favorite Seasons: Summer, Spring, Fall, and Winter
Favorite Instruments: Flute, Xylophone, Trumpet, Woodblock, Harmonica, 
Favorite Shapes: Hearts, Diamonds, Stars, Circles, Ovals
Favorite Movies: The Care Bears Movie, Frozen, Alice in Wonderland, E.T., Home Alone, Mary Poppins, The Land Before Time, The World of Strawberry Shortcake
Favorite TV Programs: Strawberry Shortcake, Sofia the First, Doc McStuffins, Ni Hao Kai-Lan, My Little Pony, Rainbow Brite, Popples, Sylvanian Families, Maple Town, PB&J Otter, 
Favorite TV Show Genres: Children's, Family, Fantasy
Favorite Fruits: Cherries, Peaches, Apples, Bananas, Strawberries, Blueberries
Favorite Characters: Cheer Bear, Love-a-Lot Bear, Strawberry Shortcake, Kai-Lan, Twilight Sparkle, Rainbow Brite, Shy Violet, Canary Yellow, Patty Rabbit, Littlefoot, Tenderheart Bear, Peanut Otter, Jelly Otter, Baby Butter Otter, Rintoo, Tolee, Elmo 
Favorite Supernatural Beings: Mermaids, Pixies, Fairies, Unicorns, Pegasi, Angels, Cupids, 
Favorite Pokemon: Pikachu, Skitty, Clefairy, Vulpix, Fennekin, Cubchoo, Cyndaquil, Oshawott, Sunflora, Bellossom, Shaymin, Eevee, Sylveon, Teddiursa, Chansey, Blissey, Audino, Marill, Azurill, Hoppip, Skiploom, Jumpluff, Minccino, Emolga, Meowth, Pachirisu, Lillipup, Jigglypuff, 
Favorite Pokemon Types: Normal, Fairy, Water, Grass, Ice, Flying
Favorite Ice Cream Flavors: Strawberry, Vanilla, Bubblegum, Mint, Green Tea, Mystery Flavor
Favorite Weather: Sunny
Favorite Holidays: Christmas, Valentine's Day, Easter, Mother's Day, Father's Day
Favorite Outside Activities/Sports: Scooter riding, Tricycle riding, Swings, Red Rover, Tag, Camping, Tennis, Field Hockey, Softball, Soccer, Duck Duck Goose, Hot Potato
Favorite Inside Activities/Sports: Arts and Crafts, Baking, Gymnastics, Bowling, Ice Skating, Table Tennis
Favorite Game Consoles: GameCube, Wii, NES, Gameboy Advance, XBOX One, PS Vita, DS, 3DS
Favorite Places: Amusement parks, dance centers, the park, the beach, the mall, Paris, Tokyo
Favorite Video Games: Super Princess Peach, Cooking Mama, Nintendogs, Strawberry Shortcake video games, Diddy Kong Racing, Disney Princess: Enchanted Journey
Favorite Insects: Butterflies, Ladybugs, Dragonflies, Bumblebees, Moths, 
Favorite Food: Pizza, Macaroni and Cheese, 
Favorite Desserts: Cake, Ice Cream, Tarts, Cupcakes, 
Favorite Snacks: Cookies, potato chips, 
Favorite Candy: Licorice, lollipops, jelly beans, M&M's, marshmallows,  
Favorite Drinks: Tea, Apple Juice, Lemonade, 
Favorite Flowers: Daisies, Poppies, Tulips, Roses, Violets, Buttercups
Favorite Animals: Dogs, Cats, Ponies, Chicks, Ducks, Bear cubs, Rabbits, Squirrels, Mice, Deer, Chinchillas, Fish
Favorite Vehicles: Airplanes, Cars, Boats, 
Favorite Songs: The Strawberry Shortcake theme song, Care Bears Count-Down, Let it Go, 
Favorite Music Genres: Pop, Classic, Children's, New Age
Appearance
When WilliamWill developed her, she had green hair with a big bow on top, and had light green eyes. She had a dark green sweater with a pink tutu over it, and wore light pink ballet slippers.
Personality
She is cheerful, prissy, kind, sweet, compassionate, self-centered, honest, and cute.