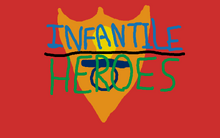 Infantile Heroes
is an action adventure animated TV series created by WilliamWill Television, Carrie Walton Animation, and September Television. It aired on December 14, 2015, on
WilliamWill Network.
Premise
This show focuses on five babies seem to be diagnosed with a superpowered mineral called Ditanium upon birth in the Carren Monroe Hospital. All of the babies can talk in complex sentences and has super strength. Their parents, older sisters, and brothers have been kidnapped by a mysterious man working with a secret terrorist organization called SHERLOCK and has destroyed the hospital. Luckily they escaped and have survived. They found a fat, dirty, 21-year-old man named Lewis McCartney, who lives in a trailer. Brandy decided to turn him into a very intelligent 8-year-old girl named Laura McCartney and turn her trailer into a huge house. Laura becomes the babies' caretaker.
Characters
Gibson Winslow, a prideful, cowardly, and adventurous baby who can create tools, objects, weapons, armor, and even appendages out of the sand, create decoys to distract his enemies, and has a cool superpower called "The Baby Stare". He is also the second in command.
Aileen Coleman, a somewhat brash, sarcastic, and cheerful baby who can be immune to all forms of physical damage, see the past, present, and future, change the size of oneself or others while preserving body proportion, and has a Water Exoskeleton.
Leon Pearson, a loyal, zany, and kind-hearted, but a feisty baby who can create and launch balls of fire, create blades out of data, and can extend and retract sharp claws.
Kimberly Sheffield, a silly, energetic, intelligent, and cute baby who can use magical forces to varying degrees be especially beautiful and use it to affect others, wield fans as weapons with high prowess, and transform into or have a physical body made up of pure light.
Brandy Douglass, a carefree, calm, feminine, and headstrong baby who can create tools, objects, weapons, armor, and even appendages out of the air, embody all psionic power, has developed a tail, and change aspects of living or inanimate things in order to increase efficiency. She is also the leader of the team.
Other Characters
Laura McCartney: She is the caretaker of the Infantile Heroes. She is friendly, smart, intelligent, and headstrong.
Katie Luv: She is a 30-year-old girl who is a sweet caretaker who enjoys tennis and is an ally of the Infantile Heroes.
Valentina Torez: She is a 21-year-old woman who is intelligent and sensitive. She is also Isabella Diego's aunt.
Gabriella Torez: She is an 11-year-old girl who is the cousin of Isabella Diego. She was born on July 18, 2005. She is very versatile and quite charismatic. She is also sort of cynical and can be a bit of a coward. She is also very clever, pretty adventurous, and very resourceful. She rarely gets scared easily, as she is pretty brave and fearless.
Episodes
Season 1 (December 2015-May 2016)
| Episode No. | Title | Premise | Airdate | Ratings |
| --- | --- | --- | --- | --- |
| 1 | Babies Ahoy! | Their parents, older sisters, and brothers have been kidnapped by a mysterious man working with a secret terrorist organization called SHERLOCK and has destroyed the hospital. Luckily they escaped and have survived. They found a fat, dirty, 21-year-old man named Lewis McCartney, who lives in a trailer. Brandy decided to turn him into a very intelligent 8-year-old girl named Laura McCartney and turn her trailer into a huge house. Laura becomes the babies' caretaker. | December  14, 2015 | 25.76 |
| 2 | Babies Home Alone | Laura wants to head over to her parents to show what she has become, so she leaves the babies home alone, proving themselves that they can behave like adults. | December 21, 2015  | 21.58 |
| 3 | Little Smarty | Kimberly saves a scientist from a cliff and wants to partner with that scientist, making the other think that she is smart and intelligent as him.  | December 28, 2015 | 28.57 |
| 4 | Eccentrical Turns | The Infantile Heroes meet a little girl who is light-hearted and cute on the outside, but cruel and sinister on the inside as she tries to kill them. | January 4, 2016 | 19.55 |
| 5 | A Tree in the Arts | Aileen finds a tree in front of their doorstep that immediately gave her inspiration for her painting, but also blocking the door so the others can't get out.  | January 11, 2016 | 19.78 |
| 6 | Aged Infants | Kimberly finds a little yellow rock in a garden, but when touches it, the babies were suddenly transformed into teenagers, so they start to ask Laura to fix this predicament.  | January 18, 2016 | 22.56 |
| 7 | Specific Power | Leon Pearson helps a young girl named Amanda Dawson to get the powers she always wanted through a scarlet red substance called Willowium. | February 1, 2016 | 24.55 |
| 8 | Amanda's War | Amanda Dawson starts a war against a terrorist group to destroy them for good. But Brandy and Leon have different options to get even with them. | February 15, 2016 | 27.86 |
| 9 | Shipping Problems | The Infantile Heroes find out that SHERLOCK is launching a prototype weapon that could kill sea life, on a ship. So it's up to the Infantile Heroes to stop this dastardly deed. | May 2, 2016  | 25.86 |
| 10 | Bionic Baby | SHERLOCK is up to no good again when they decided to make a bionic baby to kill the Infantile Heroes. | May 9, 2016 | 27.88 |
| 11 | 4 Minutes | The Infantile Heroes have about 4 minutes to save Valentina's daughter, Gabriella Torez from being by sharks. | October 10, 2016 | |
| 12 | Rainbow Pudding | | | |
| | | | | |
| | | | | |
| | | | | |
| | | | | |
| | | | | |
| | | | | |
| | | | | |
| | | | | |
| | | | | |
| | | | | |
| | | | | |
| | | | | |
Character Gallery