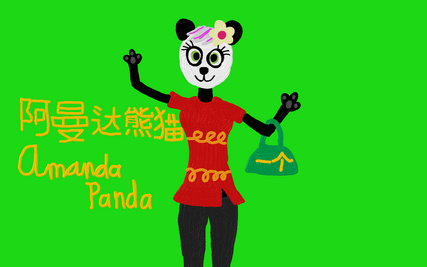 Amanda Panda
was an anthropomorphic female panda who was the mother of Dora, Sara, Lara, and Clara Panda, and the wife of Lewis Panda. Her friends were 
Penelope Cat
, Eric Charikan, and
Katherine Koala
. She lived in Cherrytown, Illinois.
Biography
Mei Shui-Liang Panda was born on January 18, 1981, in Zingcioji, China. Her parents Ting and Chen Panda gave her rice with a secret ingredient: Ditanium. In 1983, when she was 2, they moved to Vibetown, California to have a better house and a new life. Mei's named was changed to Amanda because she is quite a loveable girl. In 1984, when she was 3, she watched her very first cartoon, My Little Pony© (1984 TV special). She was so enthralled by the show, that she brought the toys. She also begins to watch other cartoons and soon beginning to love many good cartoons. In 1987, when she was 6, she went to Biskitt Books and curiously found the comic book section. She brought her first comic book, Karina the Super Squirrel, with her own money. She grew attached to comic books and Karina the Super Squirrel series. In 1988, when she was 7, she watched her first anime, Maya the Bee™, which became one of her most favorite shows of all time and anime became one of her most favorite TV show genres of all time.
In 1993, when she was 12, Amanda met Andy Panda in McLaren Park when she was playing in the sandbox. He soon becomes her girlfriend and got married on January 18, 2001, on her 20th birthday. On May 23, 2002, Dora Panda was born, Wanda Panda was born 4 years later on November 7, 2006. In 2007, when she was 26, she decided to stay at that exact age so that she could live forever. Meanwhile, Andy Panda was treating his children badly by abusing them. In 2008, He hit Wanda Panda with the bat so hard, she died. Amanda was so sad and mad at what he has done, she decided to get a divorce.
In 2010, Amanda met a very nice man named Lewis Panda in a restaurant named Calvin's Ice Cream Parlor. They got married on January 18, 2011. The triplets, Sara, Lara, and Clara Panda was born on July 27, 2012. On May 29, 2017, she was murdered by Chelsea Drangood.
Personality
She was quite imaginative, very inspired, and was pretty original in her work. She was also very creative, always innovative for her family, and very resourceful. She was also very beautiful, really divine in her kimono, and most of her favorite dresses, and was also quite charming. She was pretty artistic, indubitably stylish, and most expressive. Amanda was also always kind, lovingly altruistic and motherly to her family and husband, and very helpful to anyone. She loved to watch cartoons on her TV, whenever she has free time. She loved to read comic books, especially the ones that features Karina the Super Squirrel. She also loved to watch anime and Maya the Bee was one of her childhood favorites. She also loved to read manga books. She liked doing origami and was very good at it.
Bio
Full Name: Amanda Shui-Liang Panda
Nicknames: Toon Bear, Mandy Manga Fan
Nationality: Chinese-American
DOB: January 18, 1981
Age: 26 (stays that age forever)
Weight: 166.1 lbs
Height: 5 Ft. 4 in.
Fur Color: Black and White
Fur Texture: Smooth, neatly groomed
Eye Color: Green
Hometown: Cherrytown, IL
Jobs: Animator, Cartoonist, Comic Book Illustrator, Manga Illustrator
Species: Panda
Zodiac Sign: Capricorn
Traits: Imaginative, Artistic, Creative, Beautiful, Kind, Motherly, Sweet, Lovely
Voice tone: Soft sounding with a slight Chinese accent
Voice: Lucy Liu 
Catchphrase: "甜蜜的善! (Sweetened Goodness!)" 
Favorite Seasons: Spring, Winter, and Summer
Favorite Instruments: Gong, Guqin, Pan Flute, Pipa, Glockenspiel, Huluqin, Timpani, Duxianqin, Trombone, Taiko Drums
Favorite Shapes: Crescent, Triangle, Star, Circle, Heart
Favorite Movies: Kung Fu Panda, The Karate Kid, Pokemon Movies, Kiki's Delivery Service, AKIRA, Ponyo, Spirited Away, Castle in the Sky, My Neighbor Totoro, The Wind Rises, Pom Poko, The Chipmunk Adventure, Grave of the Fireflies, Nausicaa of the Valley of the Wind
Favorite TV Programs: Alvin and the Chipmunks, Sailor Moon, Pokemon, Pretty Cure, Yu-Gi-Oh!, Tokyo Mew Mew, My Little Pony & Friends, Maya the Bee, Duel Masters, Dragon Ball, One Piece, The Loud House, Inuyasha, Bleach, Death Note, Naruto, Looney Tunes, Rocko's Modern Life, SpongeBob SquarePants, Animaniacs, Kill La Kill, Tiny Toon Adventures, Gravity Falls, Over the Garden Wall, Avatar: The Last Airbender, The Legend of Korra, Samurai Pizza Cats, Lucky Star, Teen Titans, Freakazoid, The Raccoons, The Wuzzles, Care Bears, Anpanman, Hello Kitty 
Favorite TV Show Genres: Anime, Cartoon, Action, Adventure
Favorite Fruits: Starfruit, Dragon Fruit, Peaches
Favorite Characters: Alvin, Simon, Theodore, Sailor Moon, Sailor Mars, Sailor Venus, Ash Ketchum, Misty, May, Ichigo Kurosaki, Goku, Monkey D. Luffy, Nico Robin, Light Yagami, Aang, Inuyasha, Naruto, Sasuke, The Mew Mews, Anpanman, Kiki, Jiji, Polly Esther, Naoko Satomi, Mei Kusakabe, Karina the Super Squirrel, Po, The Furious Five, Hello Kitty, Mimmy, Badtz-Maru, Tuxedo Sam, My Melody
Favorite Supernatural Beings: Rokuro-Kubi, Kappa, Yokai, Ghosts, Kitsune
Favorite Pokemon: Pikachu, Whiscash, Bulbasaur, Popplio, Ivysaur, Venusaur, Lugia, Raichu, Fennekin, Braixen, Delphox, Vulpix, Ninetales, Pancham, Drowzee, Bonsly, Nuzleaf, Zorua, Lapras, Gyarados, Dedenne, Patrat, Magearna
Favorite Pokemon Types: Dragon, Water, Fire, Grass, Flying, Fairy
Favorite Ice Cream Flavors: Mochi, Green Tea, Squid Ink, Cherry Blossom, 
Favorite Weather: Sunny, Snowy, Rainy, Windy
Favorite Holidays: Chinese New Year, Christmas, Cherry Blossom Festival, Emperor's Birthday, Doll's Festival
Favorite Outside Activities/Sports: Baseball, Auto Racing, Jumping Rope, Football, Biking, Swimming, Surfing, Tail Chi, Golf
Favorite Inside Activities/Sports: Karate, Cooking, Mahjong, Candle making, Stand-up Comedy, Sewing, Judo, Taekwondo, Yoga, 
Favorite Game Consoles: Wii, Wii U, 3DS, PlayStation, PS Vita, GameCube, SNES, N64, NES, Game Boy
Favorite Places: Japan, China, Benihana, Shanghai, Calvin's Ice Cream Parlor, Beijing, Hong Kong, Tokyo, Mount Fuji, Manga Stores
Favorite Video Games: Super Mario series, Bubble Bobble, Cooking Mama, Fire Emblem, Earthbound, Animal Crossing, Phoenix Wright, Sonic the Hedgehog, Parappa the Rapper, Touhou, Yandere Simulator, Kirby, The Legend of Zelda
Favorite Insects: Butterflies, Fireflies, Wasps, Dragonflies
Favorite Food: Sushi, Udon Noodle, Lamian, Char siu, Onigiri, Peking duck, Dumplings, Chow mein, Jiaozi, Ramen, Egg Rolls, Rice
Favorite Desserts: Patbingsu, Chao hong guo, Egg tong sui, Egg waffles, Kai kou xiao, Guilinggao, Melonpan, Anpan, Hakuto Jelly
Favorite Snacks: Koala's March, Kappa Ebisen, Edamame, Yan Yan, Pocky, 
Favorite Candy: Hi-Chew, Puccho, Botan Rice Candy, Kyabetsu Taro, Dragon's beard candy, Kabaya
Favorite Drinks: CC Lemon, Tea, Milk, Bai Mudan, Water, 
Favorite Flowers: Cherry Blossom, Chrysanthemum, Daffodil, Daisy
Favorite Animals: Pandas, Shiba Inu, Cats, Cranes, Foxes, Frogs, Japanese raccoon dogs, Monkeys, Chipmunks, Squirrels, Rabbits, Mice, Chinchillas, 
Favorite Vehicles: Anything manufactured by Subaru, Mazda, Honda, Toyota, Kawasaki, Nissan, Lexus, Suzuki, or Mitsubishi
Favorite Songs: Caramelldansen, Gangnam Style, Let's Get Together, PONPONPON, Go! Go! Let's Go!, Kandagawa
Favorite Music Genres: J-Pop, Classical, K-Pop
Appearance
In her original design, she had a light yellow flower on her ear and has light green eyes. Her clothing consisted of a light green dress with pea green markings all over it. She also wears a pink necklace. As a kid, she wore a similar dress, but with different markings on it, and a purple bow with light purple polka dots and a burgundy red center on it. She also had green eyes and the same pink necklace.
In her current design. She still has the same pea-green eyes and light yellow flower, but now has light gray hair with light purple streaks. Her clothing consists of a red shirt with two orange loop markings, and a pair of grayish-black pants.
Trivia
She had a pet parrot named Ming.
She had a hobby which was making sculptures.
Her eldest daughter, Dora, loves singing, her iPad and iPod Touch, cartoons, art, video gaming, mahjong, and astrology. She is smart, shy, cutesy, quite adorable, and cheerful.
Ad blocker interference detected!
Wikia is a free-to-use site that makes money from advertising. We have a modified experience for viewers using ad blockers

Wikia is not accessible if you've made further modifications. Remove the custom ad blocker rule(s) and the page will load as expected.